Electronics Recycling Amador City Services, CA
Electronics recycling has many aspects to consider. But the main goal is to avoid old and disposable IT equipment from reaching the landfills. In this city, All Green has offered
Electronics Recycling Amador City Services
. This is designed to help people recycle their EOL computers, mobile phones, and other IT products.
Amador City is a small city located in Amador County and is home to 185 residents. It is home to the Little Amador Railroad, which features a model train set and full-size turn-of-the-century mining equipment.
Recycle Electronics Today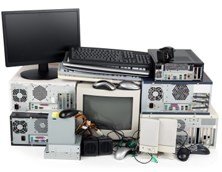 Don't let any electronic device to make its way to a landfill. Once it happens, it can cause problems to the environment. What to do? Practice the so-called "Recycle, Reuse, and Reduce" Campaign. This is made possible by All Green when you're living, or doing business in this particular city. All you have to do right now is to schedule an e-waste pickup with All Green. Or, another option is for you to find a near drop-off location. Dumping electronic waste abroad is also not good. It can be prevented through our ITAD Solutions and IT Asset Remarketing.
Amador Electronics Recycling Location
Zip code on site
Sentry Storage
4041 Wild Chaparral Drive, Shingle Springs, CA 95682
Mon-Sat: 9am-5pm
This is a self-service location. Please bring assistance to help you unload your vehicle, especially for LARGE or HEAVY items. Electronics Recycling Amador City accepts all types of electronics with no limit to size and volume. Please park your vehicle and inquire at the location for assistance.
Sentry Storage Shingle Springs
4041 Wild Chaparral Drive, Shingle Springs, CA, 95682
Mon-Sat: 9:00am-5:00pm
Sun : Closed
CLICK HERE TO VISIT THE WEBSITE
This is a self-service location. Please bring assistance to help you unload your vehicle, especially for LARGE or HEAVY items. This location accepts all types of electronics with no limit to size and volume. Please park your vehicle and inquire at the location for assistance.
Email: cameronpark@allgreenrecycling.com